ASKY is the Pan African Airline serving a wide network of destinations in West and central Africa with a modern fleet of aircrafts.
---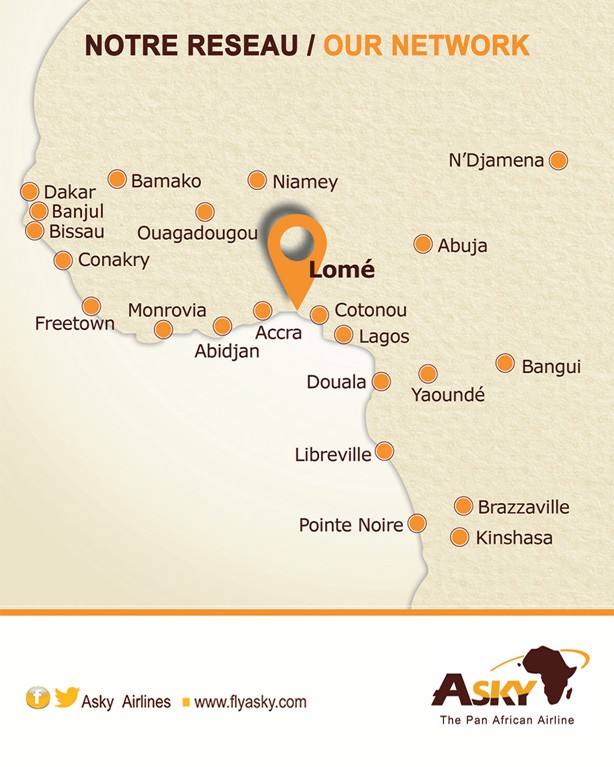 ASKY was founded principally by regional institutions – the ECOWAS Bank of Investment and Development (EBID), the West Africa Development Bank (BOAD) and the ECOBANK group. The airline is a fully private, profit-driven venture managed by experienced professionals coming from African counties.
Its strategic partner is Ethiopian Airlines, which also participates in ASKY's capital. A real model of cooperation South-South advocated by the promoters.
The Airlines was launched in January, 2010 since its hub of operations in Lomé in Togo and besides head office.
ASKY is one of Africa's fastest-growing airlines and boasts the largest network within West and Central Africa, connecting the majority political and economic cities with a modern fleet of aircrafts: Abidjan, Abuja, Accra, Bamako, Bangui, Banjul, Bissau, Brazzaville, Conakry, Cotonou, Dakar, Douala, Freetown, Kinshasa, Lagos, Libreville, Lomé, Monrovia, Ndjamena, Niamey, Ouagadougou and Yaounde.
ASKY's vision is to build a preeminent international airline connecting the region and a variety of African countries to the world, with innovative technology, efficiency, reliability and courteous customer service that encompasses traditional African hospitality.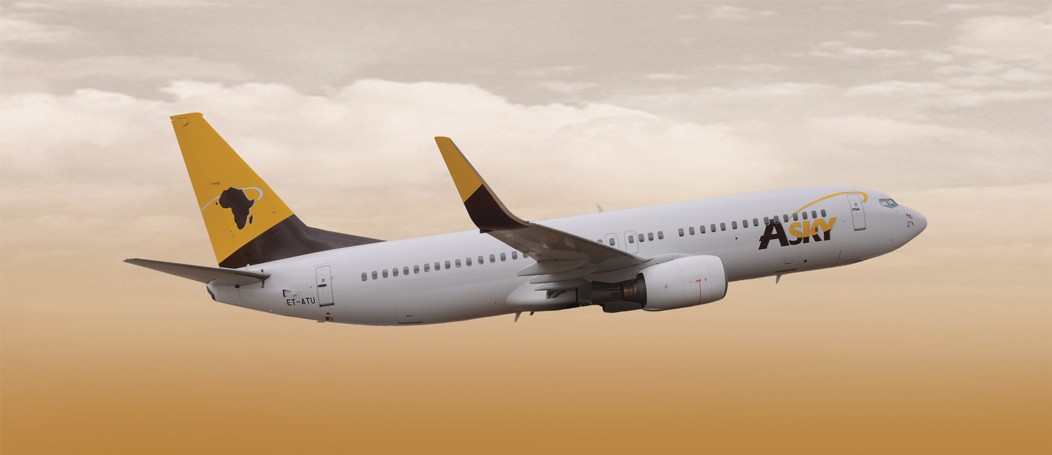 ASKY has developed a strong network and has ambitious plans in progress to enable coverage of the whole continent, with existing and ongoing negotiations on interline and code-share agreements with other African carriers. Soon new routes to South Africa, Beirut and Europe will be opened.
It is for these reasons that ASKY has won several awards including Business Destinations "The most promising airline of the year award» during the AVIATION AWARDS (2016), "Regional Airlines of the Year" by African Airlines Association (AFRAA) (2016) "Aviation and Allied Business award of Best Performance in the Aviation Industry (2015)", "The African Company of the Year (2014)", "Best Short Haul Airlines Africa (2014)", "Africa Travel Award (2014)", "Best Short Haul Carrier West Africa (2014)", "Best Economy Airline in Africa Awards (2013)", and "Africa Travel Awards (2013)".
The airline has also created the
« ASKY CLUB »
for regular travelers. Four levels of membership are available: Brown, Silver, Gold and Black. Benefits of club membership include airport assistance, increased baggage allowance, upgrades, personalized luggage tags, and access to the airport lounges.